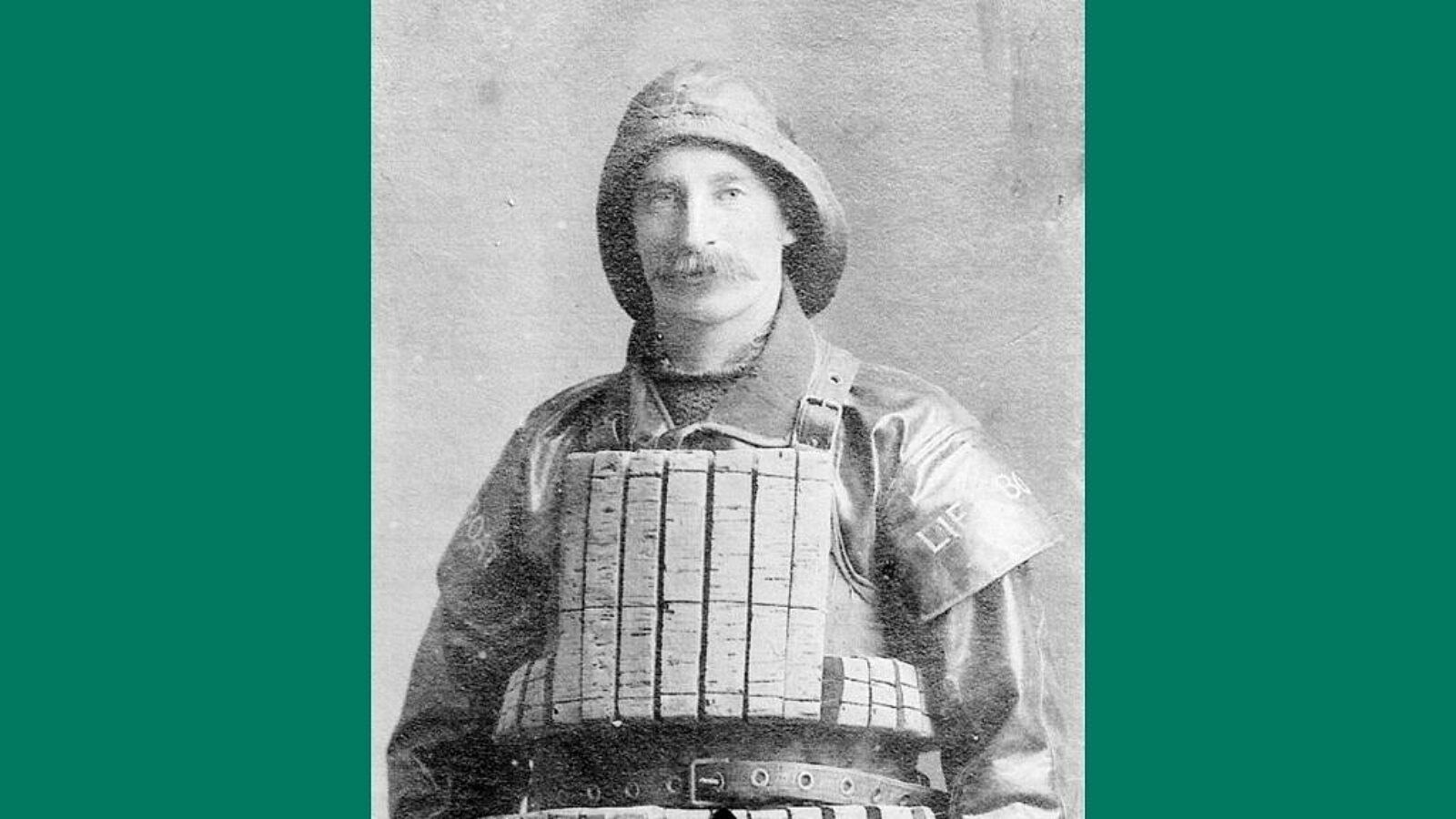 The history of Blackpool Lifeboat is peppered with heroes. Men who, when called from their 'proper' job, risked life and limb for the sake of others. One of these was Jack Parkinson or more properly, Mr John Arnold Parkinson. 'Jack' was born in Blackpool in 1874, to John, a 'Boatman' and Mary Ann who lived in York Street. Young Jack served his time as a fisherman, in a small craft located near Central Pier. He joined the lifeboat crew in 1894. His father, and brothers were all Lifeboatmen.
As well as a distinguished career as a Lifeboatman, 'Jack' had other talents. His real passion was Football and he enjoyed a glittering career in the 'Beautiful Game'. As a young lad, he played for a number of Fylde Coast Clubs and Liverpool, before moving to Blackpool FC, where he played in over 400. League and Cup matches. He also took a Managers job with Barrow.
Jack's Lifeboat career lasted for 20 years. It included well known rescues of the 'Petrel', the 'Abana', the 'Harriet', the 'Maggie Kelson' and the 'Rosaleen'. He served on the 'Samuel Fletcher of Manchester'. His title, 'The Sea Serpent' recognises his alternating role of footballer and lifeboatman. In 1910 after a lacklustre period as Barrow's Manager he was offered and accepted a job as Superintendent at Cocker Street Baths in Blackpool. Within 12 months he would suffer a hero's death.
On December 11th 1911, a routine Baths maintenance task turned into a nightmare. Baths Engineer Isaac Howcroft went to turn off a hot water valve, located above a boiling hot salt water tank. As he turned the valve, the wooden platform on which he stood gave way and he fell in. Alerted by his screams, Jack raced to help, as did his wife Ada Bessie who worked at the Baths. They attempted to pull Isaac out of the scalding water, as they did so, the platform on which they were standing collapsed too and both Jack and Isaac fell in. Jack struggled in the boiling water but managed to assist Isaac out of the tank, with the help of Ada Bessie. She managed to help Jack out too, but both were badly scalded. They were treated on site since an attending Doctor thought it unwise to move them. Within a week both men were dead.
Jack's funeral was a grand affair, befitting a lifeboatman, footballer, Lifesaver and local celebrity. His coffin was laid on the Lifeboat and trailer, draped with a Lifeboat Flag. The Lifeboat Band played as the cortège moved from his house in Cocker Street to Christ Church, where he had been married only a year before. He was buried in Blackpool Cemetery at Layton. His stone can be seen today.
The Inquest returned a verdict of 'Accidental Death' and the Coroner chastised the Borough Engineer for the condition of the wooden joists supporting the platform, which appeared to be 'rotten'. He was posthumously awarded the Carnegie Hero Trust Fund Medal and his wife a small allowance.
The London Evening News, of 26 August 1913 reported: 'A monument is to be erected at Blackpool to the memory of John Arnold Parkinson, who, as superintendent of the Blackpool Corporation Baths, lost his life in attempting to rescue an engineer from a tank of boiling sea water. Parkinson for many years played as centre half for the Blackpool Football Club. He was also for twenty years a member of the Blackpool lifeboat crew.' The Monument was never built, but his grave headstone carries the same inscription.
John Arnold Parkinson was inducted into The Blackpool Football Hall of Fame when it opened in 2006. It's ironic that 'The Sea Serpent' was destroyed by seawater, however tragic the story.