Meet Garth Gratrix and Harry Clayton-Wright.

Together, Garth and Harry are leading the "We're Still Here!" project on display at Abingdon Studios in Blackpool. With the support of the National Lottery Heritage Fund, "We're Still Here!" is the first permanent collection of LGBTQIA+ heritage in Blackpool.
The aim of the project is to capture many untold stories from members of the community with lived experiences of the LGBTQIA+ community in Blackpool. The project encourages people to talk about everything from the fight for LGBTQIA+ equality to their families, romantic experiences, work and social lives. Also, the role that costume and dress has in a town famed for entertainment.
We met with Garth and Harry recently and asked them a few questions about their recent work on the project and their connection to Showtown and the history centre.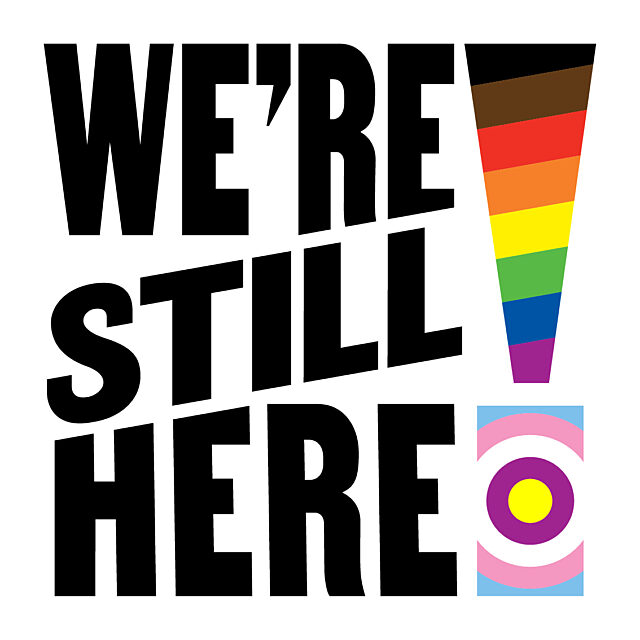 Q1. Tell us more about the 'We're still here!' project?
Garth: The project began based on a desire to see more LGBTQIA+ representation within the programming and collecting of queer culture through art and heritage collections in Blackpool. We wanted to do this with Blackpool voices at the forefront and take learning from myself and Harry, having collaborated for nearly a decade in the town. Our first collaboration was the first exhibition of queer artists as part of Blackpool Pride 2013 titled 'We're Here…" at the Winter Gardens.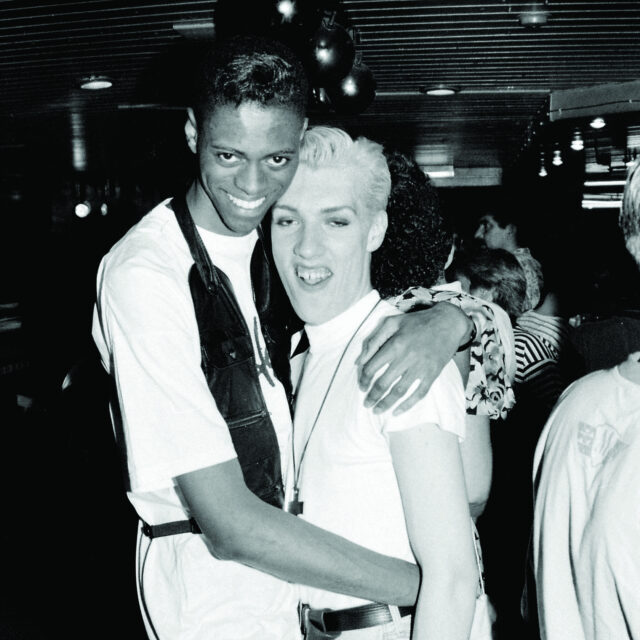 Garth: It has been a natural progression to create "We're Still Here!" as a longer-term ambition for working to support LGBTQIA+ artists and communities, to be platformed and not forgotten. So far we have collected oral histories from Blackpool residents identifying as LGBTQIA+, as well as supported the first-ever exhibition of photographic works documenting 90's Blackpool queer nightlife from artist and photographer Stuart Linden Rhodes (@linden_archives) in partnership with Grundy Art Gallery on Queen Street.
Garth: We are really pleased at the response the project has received and Showtown have been incredibly supportive and championed what we're doing from day one. We're very excited to see how these two National Lottery Heritage Fund supported projects can enhance opportunities for people living in and visiting Blackpool to engage in the town's history of diversity and inclusivity as the second largest LGBTQIA+ population in the North West.
"We're Still Here!" has also connected with local charities with support from Empowerment Charity Lancashire and Renaissance UK to achieve additional investment to work with LGBTQIA+ groups with creative activity and visible displays of work which will be showcased within Blackpool Pride 2022.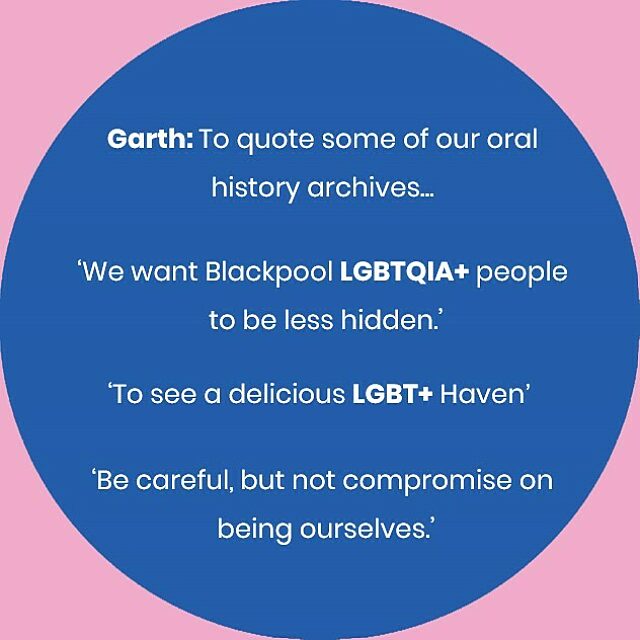 Q2. Why is the project so important to Blackpool?
Garth: As artists from Blackpool, with international portfolios, we want to retain our leadership and skills in the town, by creating projects that allow us to work in partnership, to be more inclusive in the ways we programme and collect in Blackpool.
Queer history often blurs into camp entertainment in Blackpool. How do we still ensure people can access queer material without the risk of it being misinterpreted, and then radicalise its potential to add to Blackpool's distinctiveness as a leading UK resort of 'progress'.


Garth: People need to see themselves represented, with more investment in supporting marginalised people. This would have an important impact on people's wellbeing and confidence to live their lives without judgement, prejudice or dismissal.
We hope the project will help empower people to lead on a new future where Queer isn't targeted, in favour of collaborated with.

Harry: We stand on the shoulders of giants - drag queens in heels are very tall - and countless pioneers, protesters and activists. We want to celebrate them and their stories with this project. Our hope is that as many people as possible will want to get involved to ensure that future generations can look back with pride and have a greater understanding of their history.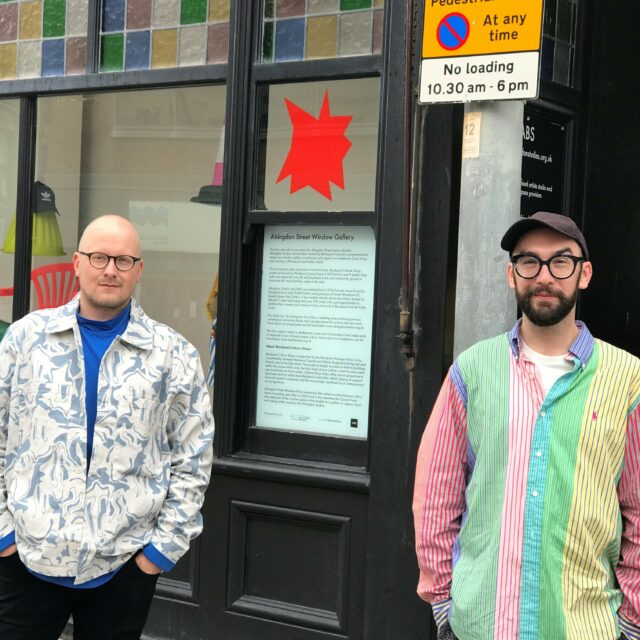 Q3. How are people able to get involved and submit their stories to you?
Garth: We're Still Here! began as a pilot project. Our oral histories are digitised on the Abingdon Studios website under a dedicated We're Still Here! page. Here you can listen to those and stay up to date with any future activity related to the project and also learn about how to get involved and donate your story. We also have an ongoing survey that people can complete where you can help us gain a wider understanding of the heritage interests of LGBTQIA+ population in the town and how we shape the project going forwards.

Q4. Tell us more about your recent work with Showtown?
Garth: As the only other Heritage Lottery funded project in the town, we were keen to make sure we connected with Showtown. We have been sharing our distinct vision for our project and how it might add value to Showtown in celebrating Blackpool's history.
Harry: I've been fortunate enough to work with Showtown quite a lot over the last year and I love each and every experience I've had with the team. From hosting a video series based on the history and research of laughter for their engagement programme, to facilitating workshops, to being part of the access and inclusivity group, I'm so excited about the museum. It's been a joy to explore how We're Still Here! can work with Showtown too.
We also have a very special event planned together as part of Blackpool Pride on Saturday 11th June. 'There Is A Rainbow over Blackpool Tower' is a documentary film which is one of few archived pieces about queer people in the town currently available in Blackpool Council's archives and collections. The film will be screening at Central library as part of the Show & Tell event with Showtown on the day. Garth included the film in the curation of the 'We're Here!' exhibition back in 2013 and it's really great to connect the dots and show the film again in this context with "We're Still Here!" and Showtown.

Q5. What are you most looking forward to when Showtown opens?
Garth: I think it will embody Blackpool beautifully. I hope its opening becomes something really joyous for Blackpool as a special and unique place. I'm also looking forward to the opportunities the Temporary Exhibitions Space will allow for us to bring to Blackpool that connects our relevance and importance to a national stage for arts, culture and heritage.
Harry: I've always felt so proud to come from Blackpool. Growing up around so much glitz and glam has inspired me tremendously and I'm beyond excited to see the history of the entertainment brought to life in the displays and collections at Showtown. It's a wonderful opportunity to celebrate Blackpool, to see where we've been and how we move forward and for people to recognise how important Blackpool is as a home for entertainment and a nurturing place for much incredible talent.