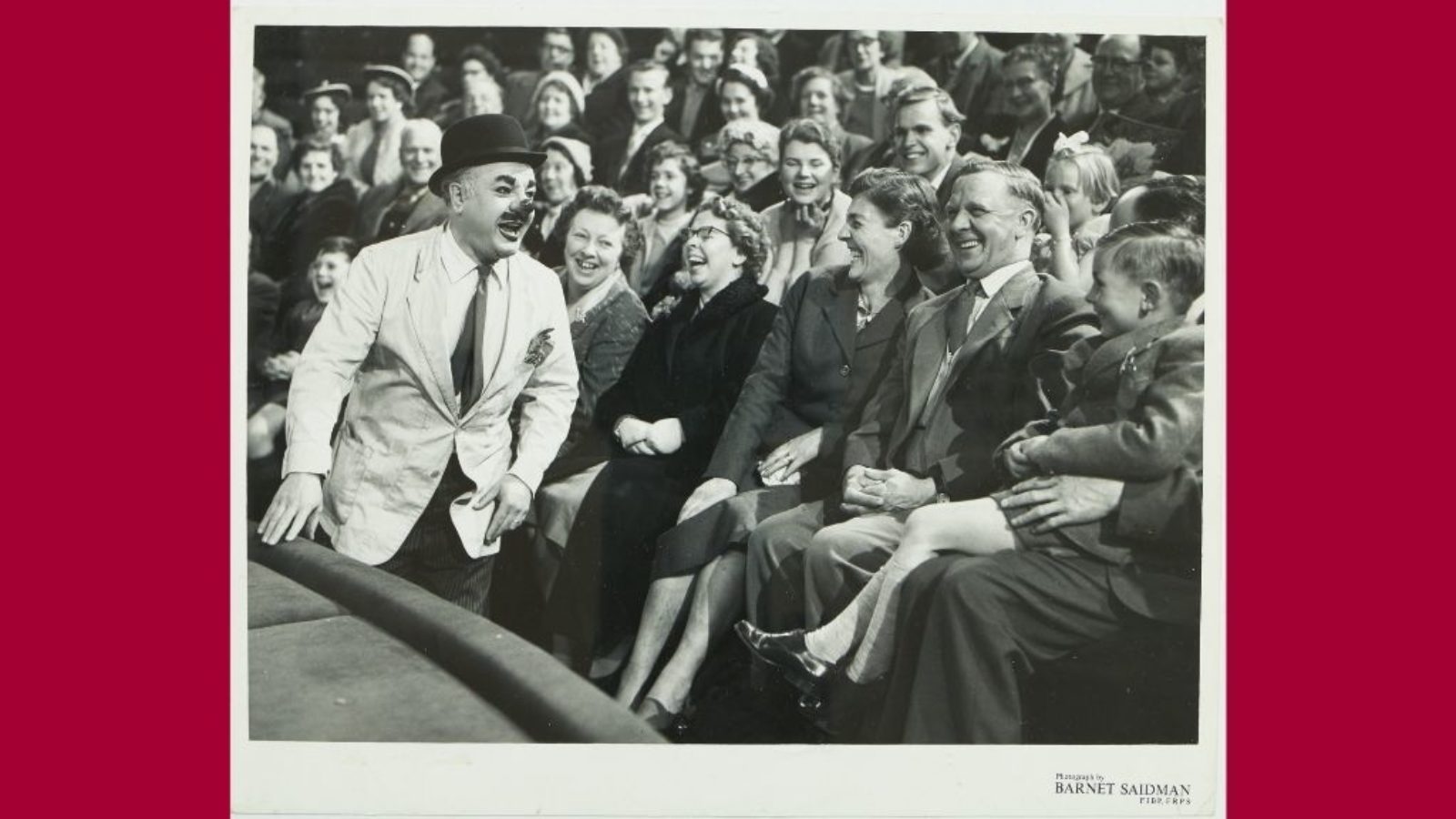 Ask any Lancastrian to name a famous clown, the chances are that you will hear the name of Charlie Cairoli - even if the respondent might not always be able to spell said name correctly. Despite his Italian name, and his birth near Milan in 1910, Charlie was born to two French circus artiste parents, and had French nationality.

Charlie first arrived in Blackpool for the 1939 season, having been spotted with his father in pantomime in Birmingham by Clement Butson, the Tower Circus Director. "I found that they liked me" was Charlie's modest explanation of his success and his decision to remain in Blackpool.

Charlie had married Violet, herself from a circus family, in France in 1934. They settled in Blackpool in Warley Road, where there was a large back garden in which the children could play – they had two daughters and one son – and where other children were always made welcome.

Charlie was briefly deported to the Isle of Man in 1941 as an alien – he had an Italian passport despite being French – but he duly received a French passport and returned to Blackpool. Charlie's father retired to France at the end of the 1947 season.

Charlie was an ever-present at the Tower from 1946 up to his own retirement in 1979. He would devise new routines every year, many of which involved getting wet! His humour was founded on his vitality and his human warmth. He had a wide musical repertoire, fostered by the training his father had provided for him as a youngster. His side-kick Paul, the white-faced clown, was played by four different performers during Charlie's career, including his son, Charlie Junior, for the final six years of his father's career.

From 1952 Charlie was supported by a great stooge in Jimmy Buchanan. Jimmy recalled in 1980 that Charlie always told him he would be sacked if he ever dared to smile whilst performing! Those of a certain age will also recall Charlie working with a wonderful ringmaster in Norman Barrett.

Charlie's non-threatening red-nose clown appearance was deliberate. He did not resemble one of those "scary" clowns and had no wish to frighten the children. It was always a source of pride to him that he could approach young children, and they would smile back at him.
Charlie was the master of knockabout clowning, but it would be misleading to regard this simply as the outcome of his talent and personality. What audiences might not have realised was the amount of work and rehearsal that went into making the act funny. Skilful foolery by a master might at times seem effortless, but it disguises meticulous planning and split-second timing, and Charlie was a perfectionist. At home in Warley Road Charlie would spend time making his own props.

During the season Violet would see her husband for an hour in the morning, and at the end of each day's final show Violet would collect Charlie, and they would have a drink together at Yates'. Charlie often did pantomime in the winter in various parts of the country and was known to travel abroad in winter to do cabaret.

He never lost his French accent – indeed he was once advised professionally not to – but it did become blended with a part-Lancashire accent. Out of costume Charlie often passed unrecognised by visitors on the streets of Blackpool, a debonair Frenchman in a lounge suit.
Retirement was never on Charlie's agenda. "I shall keep on as long as I'm fit" he declared to a local journalist in 1976 when he was aged 66 and just beyond state retirement age. "Charlie couldn't retire – he wouldn't know what to do with himself" said Violet to another local journalist early in 1979, nine months before Charlie was told that for his own health he needed to take things easy.

In such a physically active role the years must have taken their toll. "I have had many narrow escapes. I have often been cut and bruised all over, then gone back on stage and forgotten all about the injuries", remarked Charlie in a moment of reflection.

Notwithstanding, Charlie never missed a performance at the Tower Circus in all his years, until his final one in 1979. In that year he was twice taken to hospital. He announced his retirement on 6 Dec 1979, on doctor's orders, two months short of the age of 70. It was stated that he had a respiratory disorder, and was becoming increasingly breathless during performances. "What could I do? The audiences, especially the children, were my friends, and I had to give them my all", was Charlie's explanation.

When Violet found him in tears in the hallway of their home in Warley Road soon after his retirement, Charlie explained: "I'm crying because I will never hear the children laughing again".

Charlie died in February 1980, less than three months after he retired. Charlie's statue, by the sculptor Brian Nicholson, now stands in the Blackpool Tower after it was vandalised in its original setting in Stanley Park.

"My biggest fans have always been the children" Charlie was apt to say, taking great pride in this. Charlie loved the children, and the children loved Charlie. Fondly remembered by so many of us, Charlie Cairoli will always be one of our great Blackpool icons.