The laying of the foundation stone of Blackpool Tower (or Blackpool Eiffel Tower as it was initially referred to) on Friday 25th September 1891, was a most lavish affair. Processions and speeches were followed by 'a sumptuous banquet' for about 150 people, with the whole town en féte. Amongst the many esteemed invited guests, which included 27 mayors and their ladies, was 'The Manager of The Aquarium and Lady', Mr and Mrs J Walmsley
James Walmsley, known to all as Jim, was the manager of The Aquarium, Aviary and Menagerie which had been created by Dr W H Cocker in 1874. He had been born in Blackpool in 1849 in a cottage close to The Athenaeum Club.
Although he was apprenticed to his father, a plumber, Jim was also associated with the aquarium from his youth. He assisted Dr Cocker in building up the enterprise, eventually becoming a permanent employee. By 1891 he was the manager and had been living on site in Hygiene Terrace for at least 10 years with his wife Hannah and their daughters. They would continue to live there as the tower was constructed around them.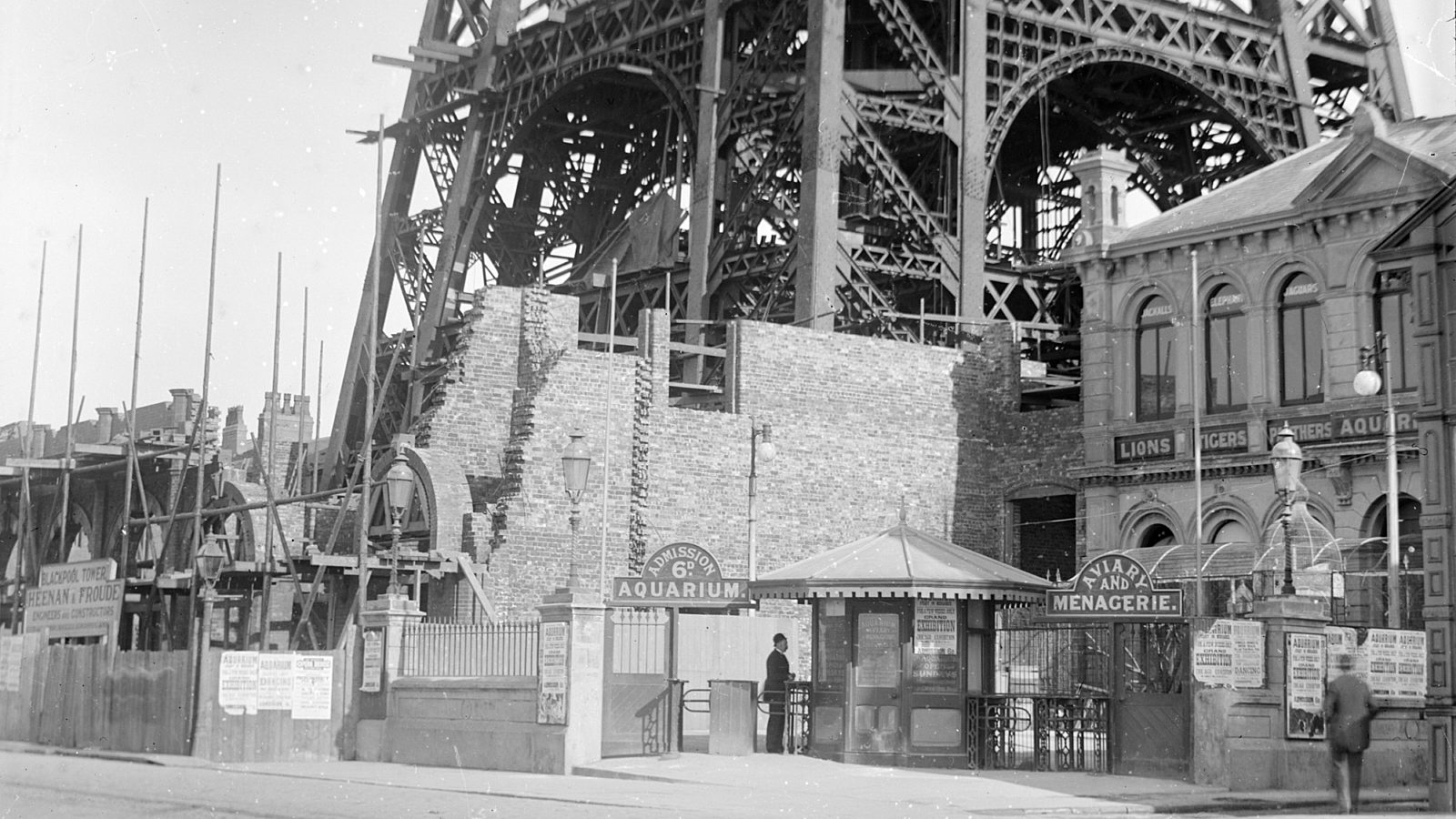 Within Blackpool Tower the Walmsley rooms were adjacent to the menagerie and monkey house on the first floor. Being available day and night, Jim was known as a devoted keeper with 'a wide knowledge of wild beasts and various kinds of fish'. In addition to being a plumber, coming from a family of plumbers and decorators, he was an energetic, resourceful man able to turn his hand to almost anything. In fact so adept was he at dealing with gas engines, electric lighting plants and hydraulic machinery that he was often described as an 'Engineer', as well as a 'Superintendent of Wild Beasts', as in the 1901 census.
His greatest skills, however, were with the animals in his care. He was described in The Blackpool Gazette as 'never so happy as when he had a litter of lion cubs in his kitchen' and became renowned for the breeding of lions and tigers in captivity.
According to an account of Jim Walmsley's life in the July 1915 edition of 'Hamlyn's Menagerie Magazine', during his tenure 'at no other menagerie in the country have more lion cubs been born and successfully reared than at The Tower'. John Hamlyn of Hamlyn's Zoological Trading of London knew Jim Walmsley some thirty years and accompanied him and the Tower Company directors, amongst them Dr Cocker, on the first expedition to Antwerp to buy new stock. There were many later trips to Hamburg made by Jim in pursuit of lions, tigers, leopards and other exotic animals on behalf of The Tower Company.
Newspaper advertising at the time described The Tower Aquarium, Aviary and Menagerie as 'The Finest Show of Animals in the United Kingdom', a claim probably not far from the truth and undoubtedly due in no small part to Jim Walmsley's dedication.
Ailing animals were quickly 'detected by Jim's practised eye' and sent to the hospital zoo in Lytham Road where the sick or 'spare' animals were also kept for the Tower Circus and where it was said he brought about some wonderful cures. It was here in 1905 that a strange tragedy occurred.
On August 14th 1905 Jim Walmsley was called to give evidence at the inquest into the death of one William Livesey who was found mauled and partially eaten by Tower bred lionesses. Mr Walmsley stated that Livesey, although employed as a carter by The Tower Company 'had absolutely no right in the lions' den' and added that the lionesses were 'rather quiet beasts, but one can never tell when these animals will turn upon you'.
It was never satisfactorily explained why Livesey, who had been drinking in The Dunes pub but was apparently 'far from drunk', came to enter the lioness enclosure and meet his end there. A verdict of accidental death was the conclusion.


Almost ten years later, another mysterious tragedy unfolded on the morning of 17th June 1915 when Jim Walmsley's body was discovered in the filter beds below the aquarium tanks in the basement of Blackpool Tower. Without boots, hat or coat he had gone to the filter beds upon waking, in order to take a drink of the salt water. Believing in its qualities as a medicine he went most mornings to lean over the tank to take a drink, and it was assumed that on this morning he had fallen in. The inquest into his death was held the next evening. Amongst the witnesses called was one of Jim's daughters Jane, who had been awaiting her father's return to their apartments on the fateful morning to supply him with his cup of tea.A Doctor Richardson, who had been called to examine the deceased, announced a case of drowning with no apoplexy, though the Coroner questioned whether a man of 5' 6" 'if he had had his wits about him could get himself out of 3' 4½"of water', or did he mean 'to destroy himself?' It was reported that nothing was troubling Jim and he had been cheerful enough the evening before. After a short consultation the jury returned a verdict of accidental drowning. Jim Walmsley was 65 years old.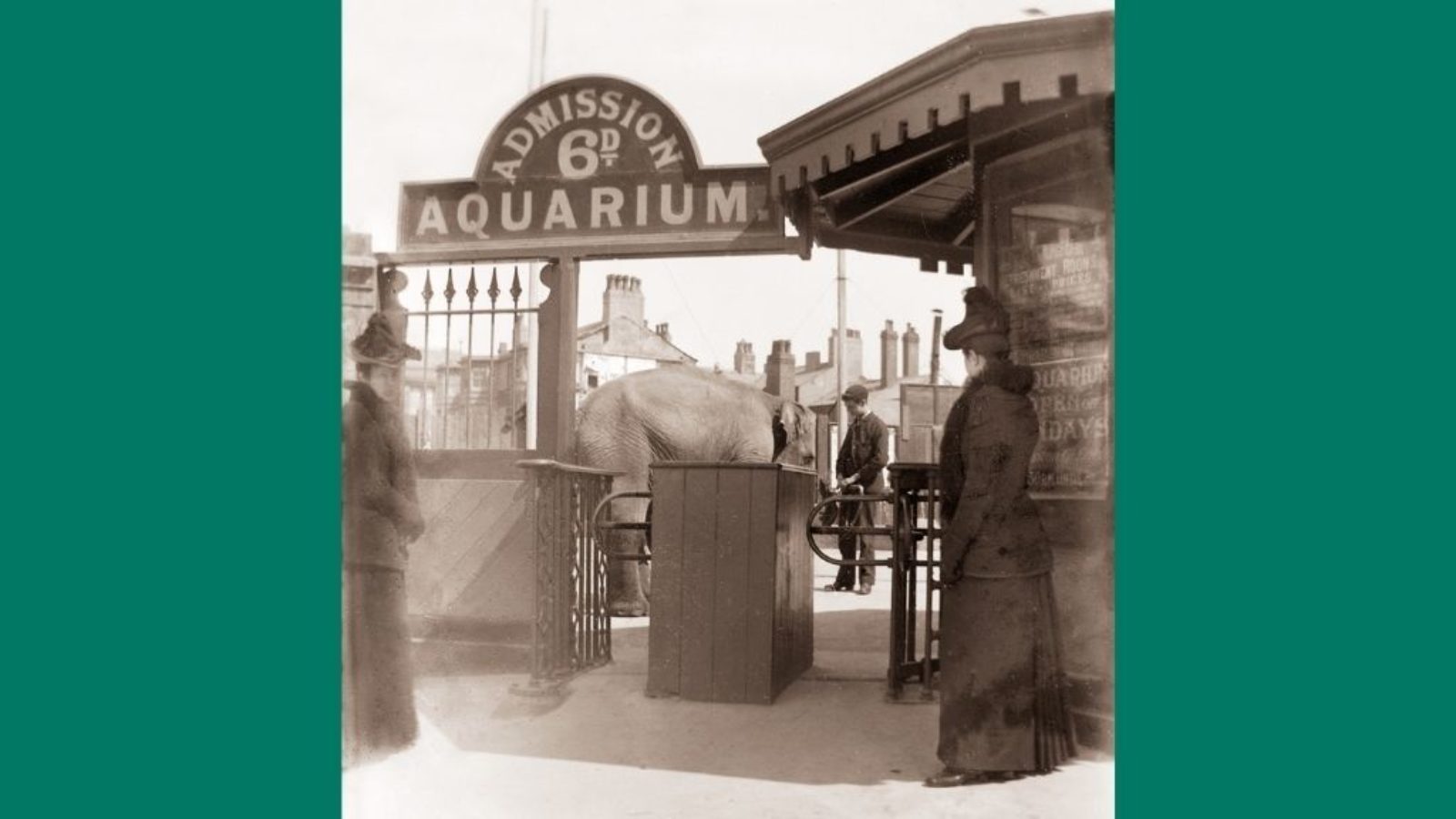 The funeral took place the following day, the route from Jim's home in The Tower to the cemetery lined with people and almost all blinds were drawn. A company of employees from The Tower, The Palace and The Grand Theatre headed the cortege, with more uniformed employees standing in front of The Tower and The Palace 'paying a last tribute of respect to a departed and much esteemed comrade'.
The menagerie where Jim Walmsley had 'tended to the animals as though they were his own children' would close in 1973 following the opening of Blackpool Zoo, preceded by the closure of the aviary. The old aquarium would last until 2010.